From the Coking Plant to Billets
PBI is active in the majority of departments (Coking Plant, Blast Furnaces, Refining Converters, Heat Treatment, etc.) with value-added solutions for protection, insulation or sealing which allow the optimisation of processes and usage values.
The objective is to maintain the optimum temperature during the critical production and processing phases in order to optimise production means, limit energy losses and protect operators and their means of production.
Originally, we worked for the perfect sealing of doors subject to strong constraints and requiring too-frequent maintenance interventions. Then, following the satisfaction of our customers and their requests, we extended our developments to the various most critical points of the process.
We have therefore developed solutions for insulation/sealing/protection with a high use value allowing us to optimise the means of production, limit energy losses and protect operators and the environment.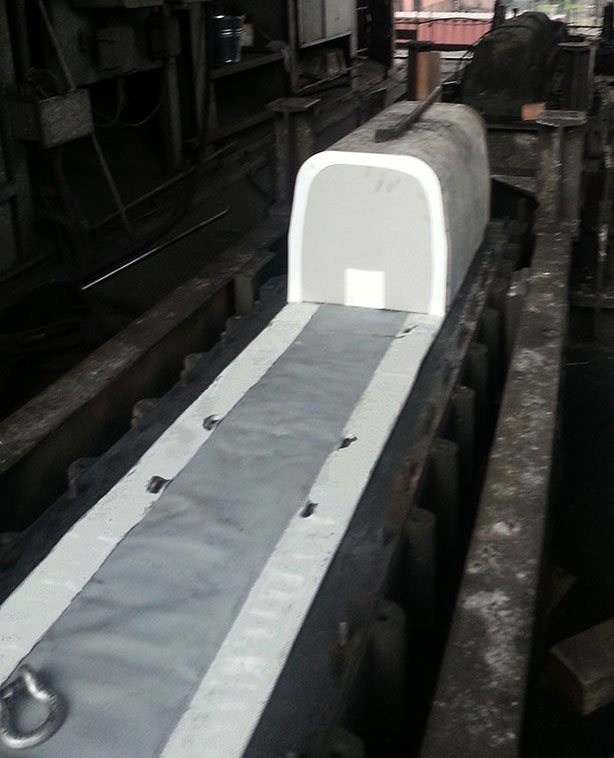 Door lifespan multiplied by up to 20 times (*)

refractory life multiplied
sharp reduction in door deformation

Maximum limitation of harmful leaks (SO2, NOx, C6H6, HAP, etc.)
(*Site of 159 cells for a coke production of 950,000 T/year)
The Membrane-Nefex®-Seal sealing KIT for coking plant doors has been specially developed to solve recurring problems in this application such as energy & gas leaks, door deformation, refractories changed regularly, coke quality, overly frequent maintenance.
Nefatex® 1390 membrane:

Set up in less than 7 minutes for 6 blocks
Delivered pre-drilled according to your template
No fibre dispersion
Perfect seal between the door and the refractory blocks
Prevents deformation of doors thanks to its insulation
Excellent mechanical strength

High-temperature Nefex® seals used between the refractory blocks which, by expansion, fill the entire space between the refractory blocks:

Set up in less than 10 minutes for 6 blocks
Excellent sealing between the blocks as soon as the temperature rises
Prevents coke from penetrating between blocks and damaging them
Seals increasing the life of the blocks

TecHeat® gasket used on the oven door or wall to ensure a perfect seal (avoid gas & energy leaks). The seal is designed for optimum compressibility/recovery.

Excellent sealing
Resistant to extreme temperatures/radiation, flames, projection and abrasion
Supplied to length
Fibre dispersion limitation
Ceramic-free Solution
Quick & easy to set up
Each element of the KIT is available separately.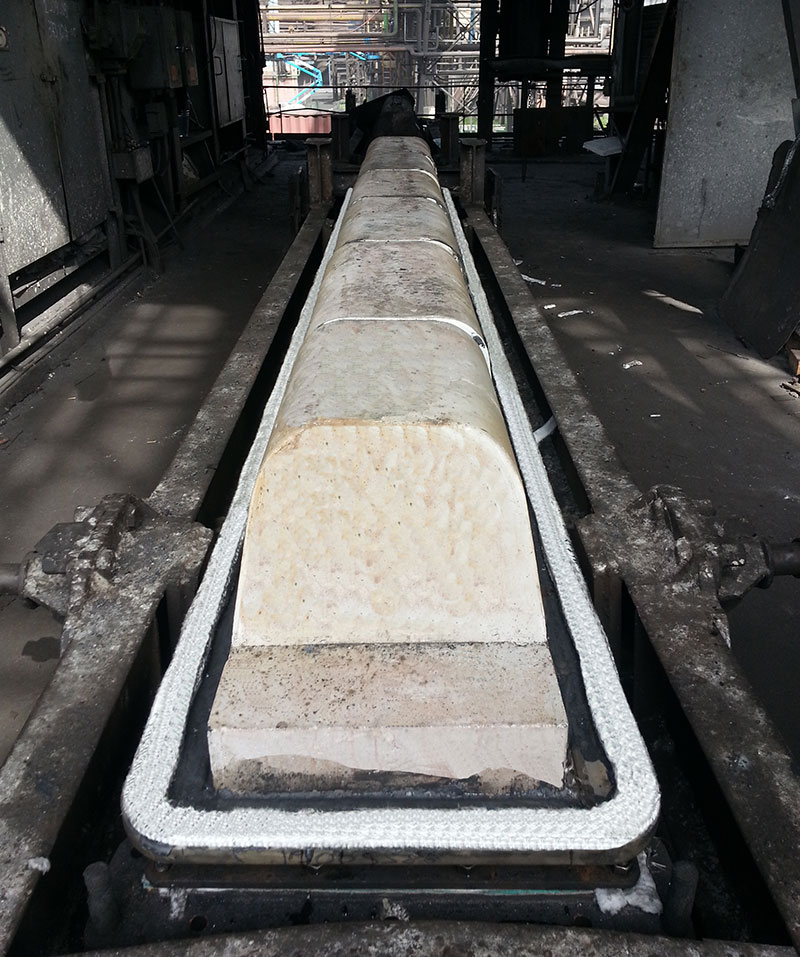 End of assembly with gasket packing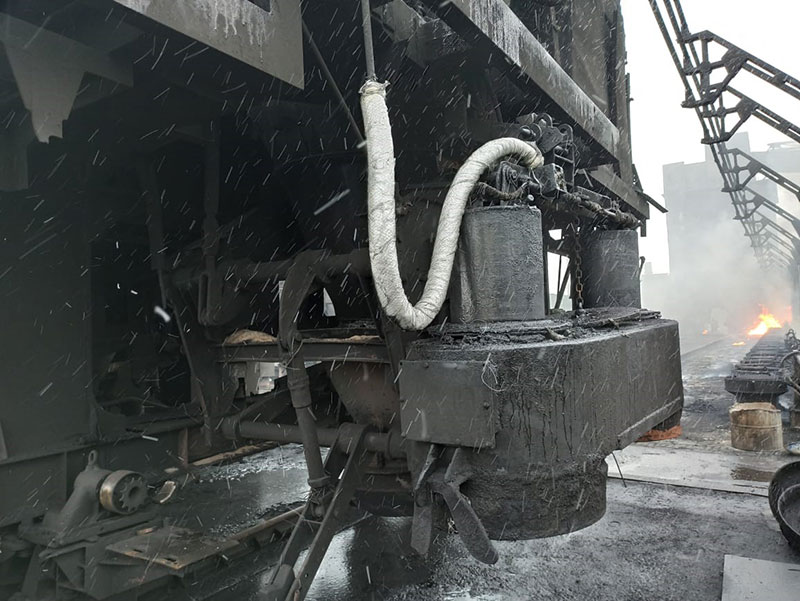 Cable/hose protection/insulation
>20% annual savings on the "flexible item" (*)
Hose purchases divided by 2
Total protection in case of fire
Reduces downtime and the number of maintenances
(*Site of 585 cells, 13 loaders of 3 Telescopes, for a coke production of 3,600,000 T/year)
The TecHeat® range of protective sheaths has been developed to protect cables/hoses undergoing the most drastic constraints in the processes and to avoid certain accidents causing production shutdown.
Holds up to 1200°C
Excellent resistance to flames, movements, abrasions and vibrations
Preserves the flexibility and bendability of your original hoses
Ease and speed of implementation
Exceptional lifespan
TecHeat® tubing condition after 50 months of use.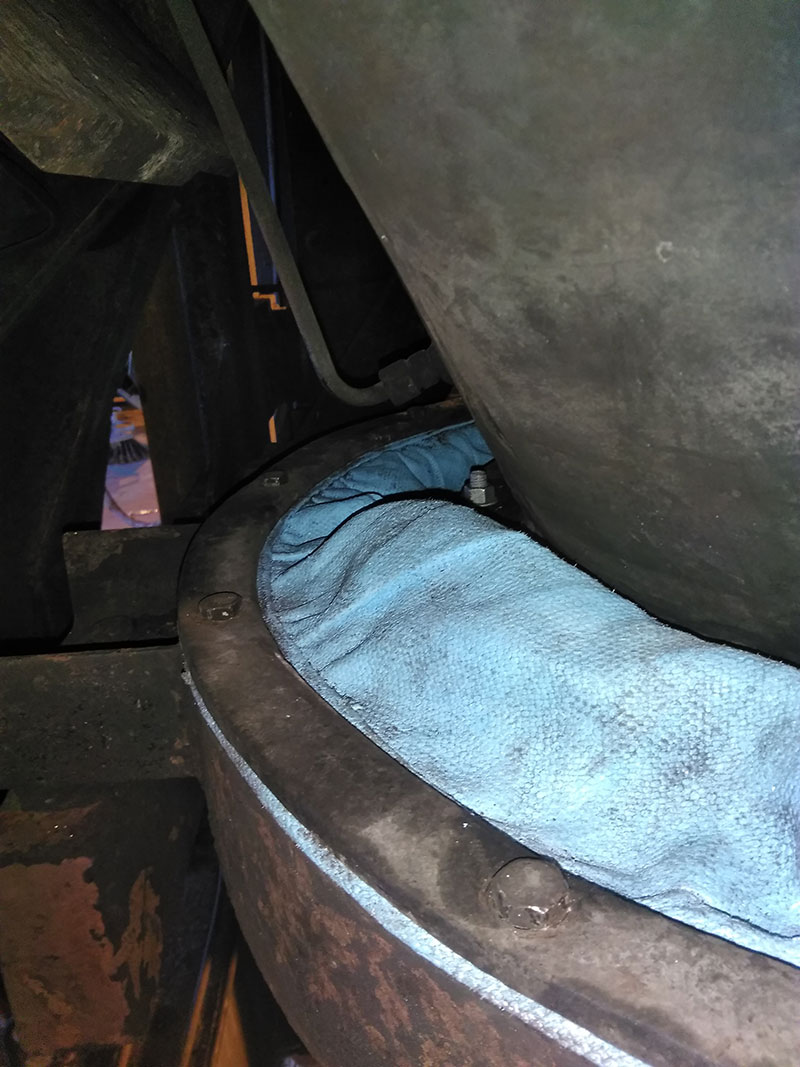 Sealing/Protection of telescopes
>40% annual savings on the "telescope membrane station" (*)
Lifespan of 180 to 240 days
Less maintenance needed
(*57 cells with 2 loaders of 4 telescopes for a coke production of 850,000 T/year)
NEFATEX® base for resistance up to 1390°C
Ease of implementation
Excellent resistance to flames, movements and vibrations
Preserves flexibility and bendability
Other coking plant applications
Thermal camera1 insulation

Sealing of portholes and manhole hatches of blast furnaces

Sealing of blast furnace feed nozzles
Telescopic protection skirt
At the heart of the process
CONTINUOUS CASTING INGOTS
The VD/VOD & Ingot making processes require perfect evacuation of the treatment ladle and absolute tightness which absolutely meets the various constraints in the application; this is why PBI has developed a wide range of TecHeat® Seal VD/VOD Solutions and NEFALIT® Seals with optimal use values.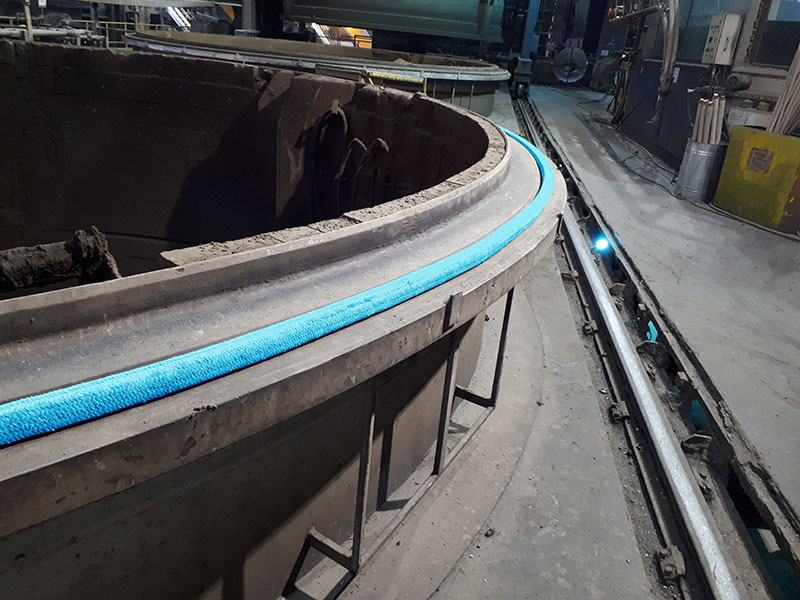 VD/VOD furnace cover sealing
Financial gain >20%
Service life multiplied by 3 with 4,000 charges over a period of 240 days (*)
(*production site of +/-1,000,000 T/year, 2 furnaces of 200 and 300 T)
As these processes require perfect vacuuming of the next step of treatment in order to produce special and very high-quality steels, PBI has developed a range of TecHeat® Seal VD/VODs ensuring a seal which perfectly meets your expectations and the various constraints of the application. These are made-to-measure seals with high wear values.
Excellent sealing
Resistant to extreme temperatures/radiation, flames, projection and abrasion
Supplied to length
No fibre dispersion
Quick and easy to set up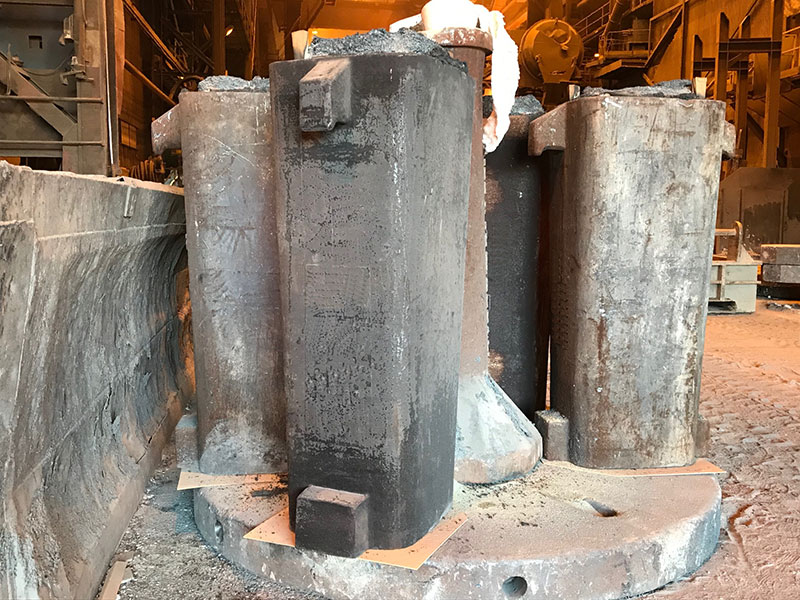 NEFALIT® millboard casting sealing
Financial gain +/- 20% (*)
Guaranteed tightness (no loss of energy or steel leakage)
Ceramic-free Gaskets
(*production site of 110,000 T/year, 12,000 seals/year based on 4 seals/barrel)
As the sealing between the ingotmaking and the mould is one of the priorities of this process to avoid negative impacts on the quality of the steel, risk of accident, loss of energy, PBI has developed seals with optimal use value.
Ready-to-use NEFALIT® cutout
Easy and simple to set up
Resistant to high temperatures up to 1200°C
Gaskets based on mineral or bio-soluble fibres
Other Continuous Casting / Ingot Casting Applications
Argon sealing of ingot moulds
Always at your service, PBI has been able to develop solutions with added value and precisely meet your expectations for the various treatment furnace processes.
Our range of Door stoppers, PIT mats, TecHeat® bell furnace ensure a perfect seal, a significant energy saving and allow us to optimize the processes and the values of use.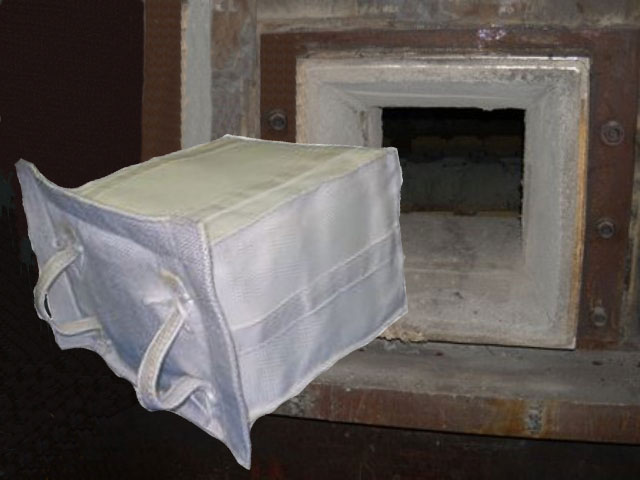 Sealing/insulation of furnace door
Service life multiplied by 4 compared to traditional refractories (*)
Easy-to-handle solution: 4 times lighter than concrete plugs (around 8 kg vs 32 kg)
Perfect sealing thanks to custom production
(*Passage furnace, temperature 1200°C, 24 inspection hatches)
PBI has developed a range of tailor-made Door Stopper sealings as an alternative to existing solutions (concrete/bricks, etc.). Easy to handle (reduced weight), they ensure a perfect seal and improved durability.
Excellent sealing
Easy Handling and Installation
Solutions up to 1390°C
Excellent resistance to radiation
No fibre emission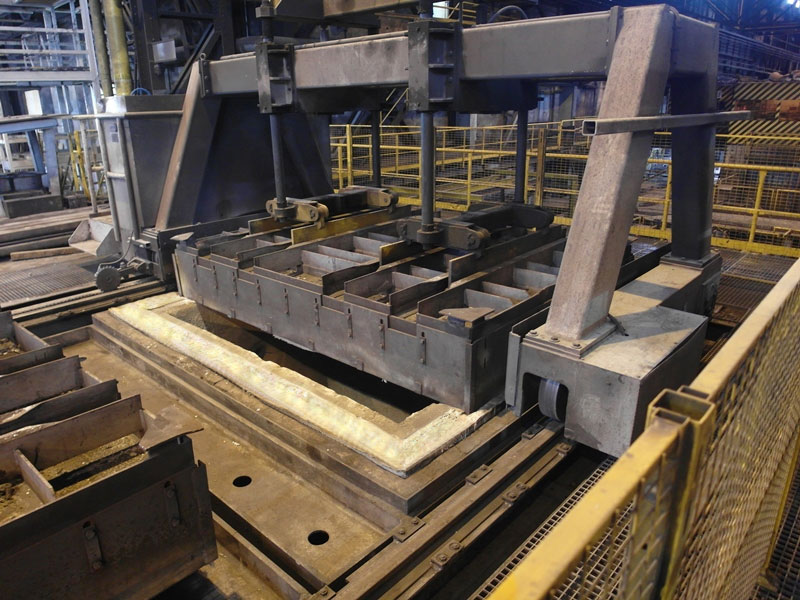 Energy savings >15% per year (*)
Improved sealing
Service life multiplied by 20
Less knife deformation
(* 12 ovens of 80 T)
PBI has developed a Range of Sealing Mattresses with optimal use value to limit the following as much as possible:
· Gas consumption in furnaces
· The presence of calamine on the ingots (cause: parasitic air inlet)
· Deformation of the cover (knives)
o Excellent sealing
o Prevents deformation of the cover knives
o Resistant to very high temperatures (1390°C), to projections and to abrasion
o Supplied as a ready-to-install kit
o No fibre dispersion
o Quick and easy to set up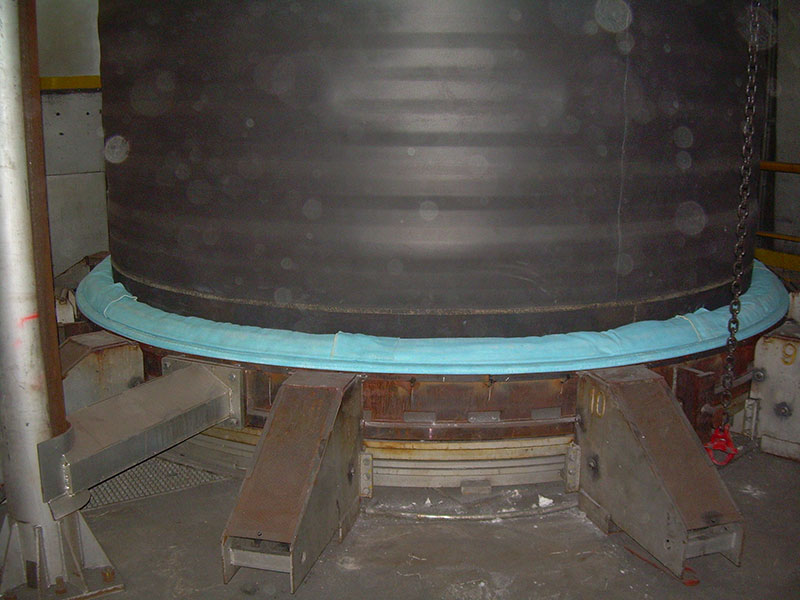 Service life multiplied by 25 compared to usual fibrous (*)
Energy gain >20%
Avoids the dispersion of dust (fibres, sand, etc.)
(*production site of +/- 1,000,000 T/year, 30 furnaces)
PBI has developed a range of TecHeat® bell furnaces (bell furnace process under controlled atmosphere) in order to obtain an absolute seal between the table and the bell for an optimal and homogeneous treatment of the coils, to limit the deformation of the bell, the energy consumption and increase the life of the seal.
Excellent sealing
Reduced maintenance
High temperature resistance (1000 to 1200°C)
Resistance to mechanical & chemical stress
Ceramic-free
Supplied ready to use
Quick and easy setup (<30 minutes)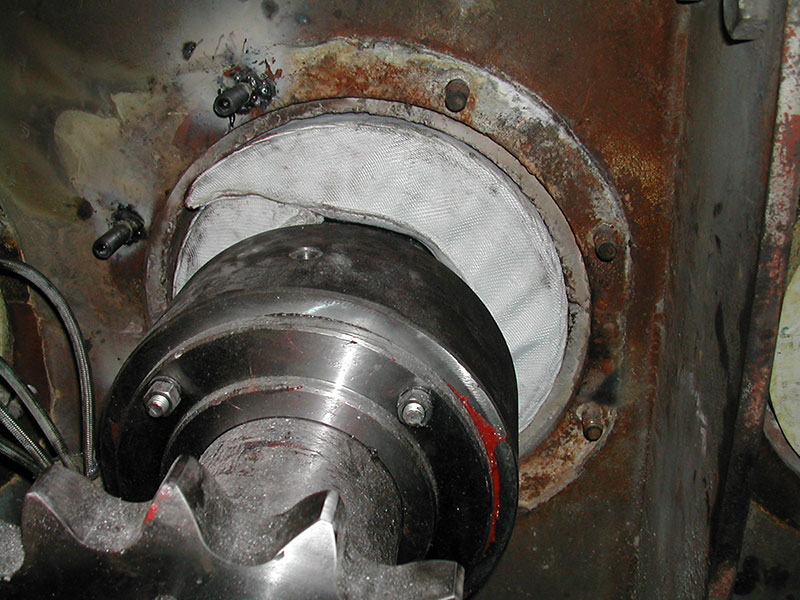 Expanding sleeve to take the usual offsets of the rollers
Sealing of rocket passages in roller heat treatment furnaces
Lifespan >3 years (*)
Significant economic gains (maintenance, energy, refractories, etc.)
(*36 and 48 roll furnaces)
PBI has developed an expanded solution ensuring the perfect sealing of the rocket passages of the rollers to protect the integrity of the external drive system of the rollers (motors, gears, etc.).
Reduced risk of burns to personnel
Quick and easy installation (kit + assembly instructions)
Resistant to high temperatures (up to 1390°C) and abrasions
Ceramic-free and no fibre dispersion
Reduced maintenance
Other heat treatment applications
Data pack tracker insulation
PIT oven transport clamp protection

Bell furnace insulating spacer
Wagon wheel injection mould sealing

Sealing of centrifuge moulds

Die-stamping press insulation
Furnace control valve

Welding mats

Relaxation mats
Lubricating die-forging mats

Wire drawing wiper braid

...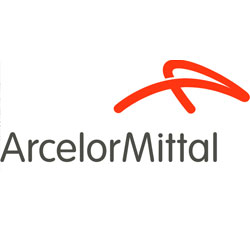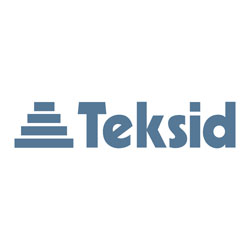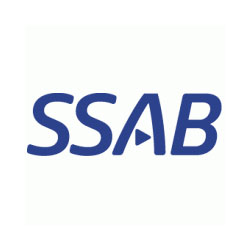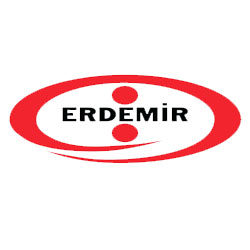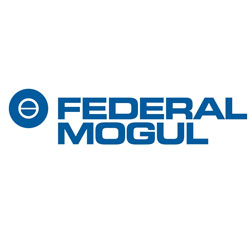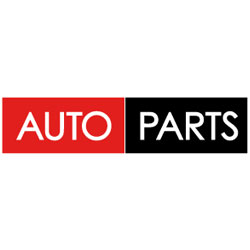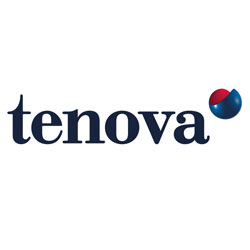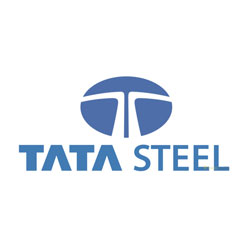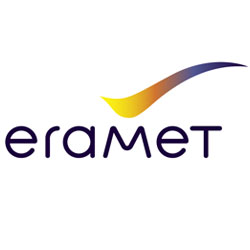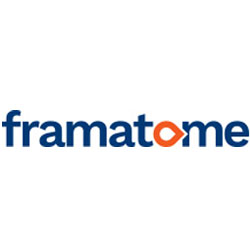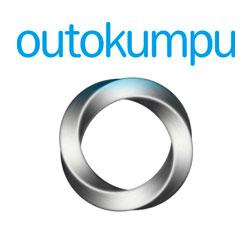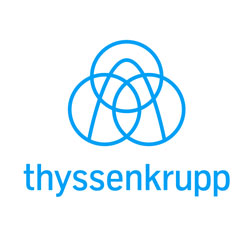 TEXTILE EXPANSION COMPENSATORS
TEXTILE EXPANSION COMPENSATORS 100°C TO 1300°C
BACK-UP INSULATIONS
BACK-UP LADLE/CRUCIBLE/ FURNACE INSULATIONS
INSULATION AND PROTECTION LAGGING
INSULATION AND PROTECTION LAGGING 100°C TO 1390°C
PROTECTION OF CRITICAL CABLES
PROTECTION OF CRITICAL CABLES UP TO 1390°C